Sable Swords

Warcry

Unknown

Founding

Unknown (32nd Millennium or after 926.M41, see below)

Successors of

Unknown

Successor Chapters

Unknown

Number

Unknown

Primarch

Unknown

Chapter Master

Unknown

Homeworld

Obsidia

Allegiance
Colours

Black and White
The Sable Swords are a Loyalist Codex Astartes-compliant Space Marine Chapter of unknown origin and Founding said to be created in the latter years of the 41st Millennium, making them one of the newest Space Marine Chapters to be raised, though there is some conflicting evidence on this in the Imperial records, with some reference to the Chapter existing as early as the 32nd Millennium. This discrepancy has not yet been reconciled. The Sable Swords Chapter were created following the valiant sacrifice of the entirety of the Astral Knights Chapter to stop the threat of a massive Necron World Engine on the outskirts of the Danorra System in 926.M41. In the wake of the World Engine's destruction, the Astral Knights were struck from the roster of active Space Marine Chapters. The handful of Battle-Brothers who had not been present during the battle against the World Engine were too few to carry the burden of reconstitution. The Sable Swords Chapter was formed to fill the void and took up stewardship of the all-but abandoned Fortress-Monastery. The Sable Swords' Fortress-Monastery is located on the world of Obsidia in the Ultima Segmentum.
Chapter History
Edit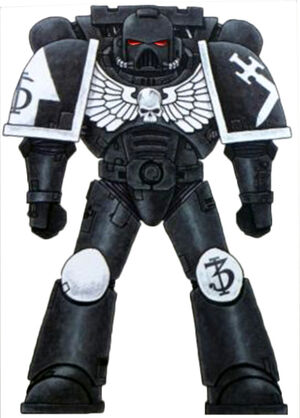 Notable Campaigns
Edit
Notable Sable Swords
Edit
Daegan - Daegan is a Captain of the Sable Swords' 1st Company.
Carden - Champion of the Sable Swords' 1st Company.
Kaas - Apothecary of the Sable Swords.
Chapter Appearance
Edit
Chapter Colours
Edit
The Sable Swords primarily wear black coloured Power Armour. Parts of their battle plate is white in colour, including -- the Aquila or Imperialis on the chest plate, the shoulder pad trim and both knee guards. The white coloured squad specialty symbol -- Tactical, Devastator, Assault and Veteran -- is located on the right shoulder pad. A black coloured Gothic numeral is stenciled in the centre of the squad specialty symbol, indicating squad number. The black coloured Gothic numeral stenciled on the left knee guards indicates company number.
Chapter Badge
Edit
The Sable Swords' Chapter badge is a pair of white coloured crossed swords, the points of the swords pointing downwards, on a field of black.
Canon Conflict over Founding
Edit
The Codex: Space Marines (5th Edition) indicates the Sable Swords were Founded in the 41st Millennium, but the Warhammer 40,000 5th Edition Rulebook states they participated in the hunt for Vanorich in the 32nd Millennium. It is possible that there were two different Chapters named the Sable Swords at different times, though the conflict has not yet been resolved.
Adeptus Astartes: Successor Chapters (Limited Release Booklet)
Codex: Space Marines (5th Edition), pp. 28, 30, 40, 44-45, 48-49
How to Paint Space Marines
Imperial Armour Volume Nine - The Badab War - Part One, pg. 118
Warhammer 40,000 Rulebook (5th Edition), pg. 124
Obsidian (Short Story) by Graham McNeill