Ad blocker interference detected!
Wikia is a free-to-use site that makes money from advertising. We have a modified experience for viewers using ad blockers

Wikia is not accessible if you've made further modifications. Remove the custom ad blocker rule(s) and the page will load as expected.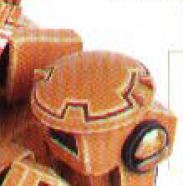 A Shield Generator is a Tau defensive technology that projects a cohesive energy field around its bearer, protecting him from assaults that might otherwise slay him outright by redirecting them away from the projector, dissipating and absorbing an energy blast, or robbing them of all kinetic energy. Shield Generators are employed at varying scales, from infantry-portable versions to the shields that protect Tau starships.
Shield Generators are commonly deployed as a Support System for Tau Battlesuits, and allow the Battlesuit to survive assaults by heavy ordnance and anti-tank weapons fire. Shield Generators can also be mounted on Tau Drones such as Shield Drones and Shielded Missile Drones, which specialise in using the Shield Generator to protect their master. Ethereals sometimes carry small Shield Generators into battle as a form of personal protection, whilst a Drone Sentry Turret can be upgraded to make use of a Shield Generator.
Notable Shield Generator Variants
Edit
Codex: Tau (3rd Edition), pg. 17
Codex: Tau Empire (4th Edition), pg. 27
Codex: Tau Empire (6th Edition), pp. 33, 45, 59, 69
Imperial Armour Apocalypse (2nd Edition), pg. 84
Imperial Armour Apocalypse 2, pg. 60
Imperial Armour Volume Three – The Taros Campaign, pp. 211, 282, 287
Battlefleet Gothic: Armada, pg. 98
Battlefleet Gothic: 2010 Compendium, pg. 159
Forge World Tau Update