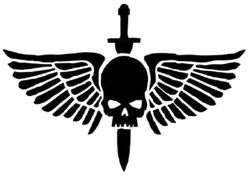 The Sinew Coils, also called The Steel Within, is one of the twenty-two gene-seed implant organs of the Adeptus Astartes, and one of the three unique only to the Primaris Space Marines. A Primaris Space Marine's sinews are reinforced with durametallic coil-cables that can contract with incredible force, magnifying his strength as well as giving his body another layer of defence. A Primaris Space Marine can crush a man's skull in his hand, break Flak Armour to flinders, or even bite through a metal cable should the need arise.
Codex: Adeptus Astartes - Space Marines (8th Edition), "The Making of a Space Marine"
Ad blocker interference detected!
Wikia is a free-to-use site that makes money from advertising. We have a modified experience for viewers using ad blockers

Wikia is not accessible if you've made further modifications. Remove the custom ad blocker rule(s) and the page will load as expected.