Skyrar's Dark Wolves
Talk

0
2,853pages on
this wiki
Skyrar's Dark Wolves

Warcry

Unknown

Founding

Unknown

Successors of

Space Wolves (Unconfirmed}

Successor Chapters

None

Number

Unknown

Primarch

Leman Russ (Unconfirmed}

Chapter Master

Skyrar

Homeworld

Fenris (Allegedly)

Allegiance
Colours

Dark Grey, Light Blue and Red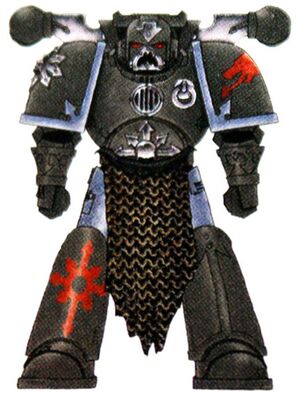 The warband of Chaos Space Marines known as Skyrar's Dark Wolves are a possible splinter faction of formerly Loyalist Space Wolves Space Marines who turned to the Dark Gods. They were first sighted by Imperial forces operating in the Fenris Sector.
Warband Appearance
Edit
Warband Colours
Edit
This warband wears dark grey coloured Power Armour with light blue trim and red blasphemous Chaos iconography.
Warband Badge
Edit
Skyrar's Dark Wolves are identified by a red, corrupted wolf's head, its maw agape, with a daemonic tongue protruding from its mouth on a dark grey background. They adorn their armour with the usual heretical Chaotic fetishes, totems and trophies of their slain enemies.
Notable Dark Wolves
Edit
Skyrar - The founder of the warband, Skyrar is a powerful and savage Chaos Lord.
Codex: Chaos Space Marines (4th Edition), p. 24