Sniper Drone Team
Talk

1
2,851pages on
this wiki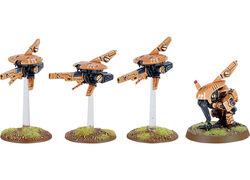 A Sniper Drone Team is a specialist unit of the Tau Empire Fire Caste, which consists of three Sniper Drones controlled by a Tau spotter. They specialise in assisting a main Hunter Cadre by lending pinpoint accurate anti-personnel sniper support where it is needed; usually to eliminate high-priority targets threatening Tau forces. All members of Sniper Drone teams, whether they be Drone or Tau, are equipped with stealth-field generators, which camouflage them perfectly against their background environment, making them extremely hard to target, let alone be seen, by enemy forces. Sniper Drone Teams are commonly found operating in groups of two to three teams where their combined fire can pin down even the most determined enemies.
Sniper Drone Team Components
Edit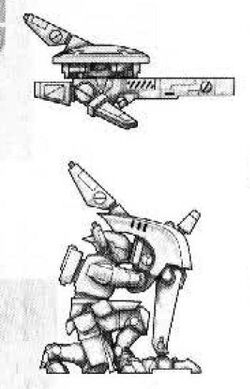 All Tau spotters who work with Sniper Drones are Fire Warriors who have experience in the elimination of high-priority targets through long-range sniping. Tau spotters are always equipped with a support targeting platform that incorporates numerous technologies to aid them in their role of directing their Sniper Drones. The platform incorporates a Networked Marker Light, which the spotter can use to feed targeting information to his Sniper Drones to make their firepower more accurate and effective, a Drone Controller so that the spotter can give and instruct his Drones to perform the tasks that are required of them, and a Pulse Pistol for basic personal defence if necessary. The spotter is essential to a Sniper Drone team and its proper functioning, as if he is killed, the Sniper Drones will lose all coherency; becoming easy targets for the enemy.
Sniper Drones
Edit
Sniper Drones are a type of Tau Drone (small, disc-shaped, semi-sentient machine) employed extensively alongside Tau units in a support role during combat. Sniper Drones consist of an advanced processor unit, which individually has only a basic intelligence (approximately equal to that of a small animal such as a pterasquirrel), and moves about by way of a compact anti-gravitic generator and a much modified variant of the Tau Jetpack. This allows the Sniper Drone to hover over the ground and skim over most obstacles. Each Sniper Drone is armed with a Rail Rifle; a weapon that implements the Rail technology utilised in larger Railguns mounted on Tau Hammerheads and XV88 Broadside Battlesuits on a smaller scale. Rail Rifles have only recently been issued for front-line units such as the newly developed Sniper Drone, having just completed an extensive field-testing phase carred out by the Earth Caste. The Rail Rifle retains the characteristic hyper-velocity projectile speed and effective armour piercing nature of the larger Railgun, and is small enough to be man -- or in this case -- Drone-portable. With these devastating ranged weapons, Sniper Drones can pin down enemy units with extremely accurate sniper fire, allowing other Tau units to move in for the kill. All Sniper Drones are also equipped with Targeting Arrays, which enhance their basic Drone targeting capacities to make them more accurate, and a Target Lock which allows them to fire upon numerous different targets simultaneously and effectively.
Sniper Drones will always stay within close proximity to their Tau Fire Warrior controller, and can act as a form of robotic bodyguard if necessary by getting in the way of incoming enemy fire or close-combat opponents during the course of a battle.
All Sniper Drones are controlled by the Tau spotter through the use of an electronic Drone Controller device, which is incorporated into the spotter's supporting targeting platform. A Drone Controller is an electronic device which acts as a hub of digital communications between the Drone's operator and up to two Drones that accompany the user. It allows a user to communicate his will to any Drone directly under his control. Most of the time, the controller operates at a default level that simply keeps the Drone obeying its basic programming, but the owner can also use it to issue simple orders beyond the Drone's normal parameters.
Ordo Xenos Departmento Analyticus Technical Specifications
Edit
The technical specifications for this Tau unit have not been obtained or released by the Ordo Xenos.
Codex: Tau Empire (4th Edition), pp. 29, 31, 40
Imperial Armour Volume Three - The Taros Campaign, pg. 282
Deathwatch: Mark of the Xenos (RPG), pp. 12