Sons of Jaghatai
Talk

0
2,852pages on
this wiki
Sons of Jaghatai

Warcry

Unknown

Founding

Unknown

Successors of
Successor Chapters

Unknown

Number

Unknown

Primarch
Chapter Master

Unknown

Homeworld

Unknown

Allegiance
Colours

Dark Purple and Bone White
The Sons of Jaghatai are a Codex Astartes-compliant Loyalist Space Marine Chapter of unknown Founding. They are a Successor Chapter of the White Scars. Almost nothing is known about this Chapter in current Imperial records.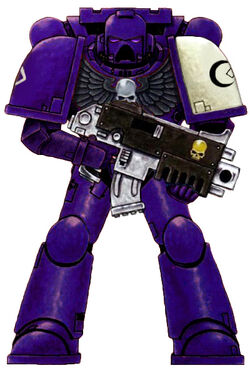 Chapter Appearance
Edit
Chapter Colours
Edit
The Sons of Jaghatai's Chapter colours are dark purple with other markings painted in bone white. The alpha symbol from their Chapter iconography is repeated much larger on the right shoulder pad in bone white. Squad number is designated on the right knee plate. Sergeants and other senior Astartes of the Chapter wear bone white helmets and possess a white right knee plate.
Chapter Badge
Edit
The Sons of Jaghatai's Chapter badge is a black crescent with a tiny alpha symbol contained within the crescent's horns.
How To Paint Space Marines, p. 96