Squig
Talk

1
2,853pages on
this wiki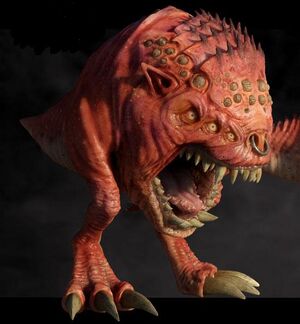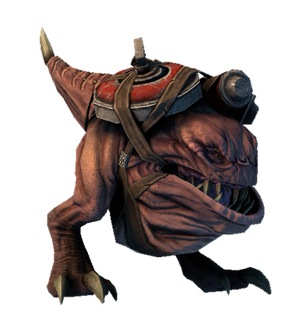 Squigs (short for "squiggly beasts") are the simplest form of Orkoid life. There are many types of Squig, each generally filling some functionary role in the Ork ecosystem. They currently serve as the Orks' primary food source, much like herd animals are for humans. There are many types of Squigs, but each can be generalized into a single variety, such as edible, musical, hair, medical, parasite-hunting, face-eaters, pet, buzzing and paint Squigs. Some, like the face-eater types, are little more than snapping, fanged mouths on legs. Squigs naturally grow and breed within the cesspits of Ork settlements, subsisting on Ork refuse. Tending the Squigs is the duty of the low-caste Orkoids known as Snotlings.
The savants of the Inquisition's Ordo Xenos once held that Squigs were bred by the lost Ork caste the Greenskins refer to as the Brain Boyz, who were actually most likely the Old Ones, the ancient reptilian intelligent species that dominated the Milky Way Galaxy millions of years ago and may have created the Orks' ancestors, the Krorks, to serve as a "biological weapon" to defeat their enemies the C'tan. However, Squigs were originally introduced as a Tyranid unit said to have been derived by the Tyranids from Ork DNA. It is now a generally accepted fact that the Squigs were the result of the Tyranids' manipulation of Orkoid genetic material. The Orks discovered the first Squigs aboard a Tyranid bio-ship and subconsciously recognised them as being "Orky", subsequently taking the little creatures home with them. Squigs then spread throughout Ork space. This reality explains how Squigs have appeared in both the Ork and Tyranid armies. Since then, Tyranid Squigs have been recognised as the Tyranid sub-species that are now known to the Imperium as Rippers. Regardless of their origins, Squigs are a truly vital part of Ork culture.
Squig Eatin'
All Squigs are edible, but some Squigs are specifically bred as a food source by the Orks. Gretchin are responsible for cooking the Squigs, though Orks will eat raw Squig if a cook cannot be found. The rarest form of these Squigs are referred to as Juicy Squigs and require a special Gretchin cook to be prepared properly. Orks reserve the eating of Face-Eater Squigs for special contests.
Breeds of Squig
Squigs come in a variety of shapes and sizes, and all are extensively used by the Orks.
Hair Squigs have hairy growths, and Orks like to stick them in their heads to give themselves hair.
Attack (Cave) Squigs are one of the most common types of Squig. An Attack Squig is a bouncing ball of claws and razor-sharp teeth up to a foot in height. Gretchin use them as both a food source (if the Squig doesn't eat them first!) or as a weapon of war, pushing herds of them into the enemy. Orks like to keep them as pets, and sometimes even as weapons as well.
Face-Eater Squigs (Gnashers) - The Face- Eater Squig is a toothed variety of Squig used both as a weapon and in the infamous Ork face-eating contests. The Ork and the Squig both open their mouths and bite, in a parody of a kiss. If the Ork eats the Squig, he wins. If he keels over backwards, he loses and usually the Squig eats him!
Oily Squig - The Oily Squig is a variety of Squig bred by Ork Meks to use as fuel for the Orks' ramshackle vehicles.
Squighounds (Growler Squig) are a variation of the Attack Squig, used by Ork Slaverz to help them keep the Gretchins in line.
Squiggoths are the largest type of Squig, huge quadruped monsters used by the Orks as a primary food source. Since they're so large and tough, some Orks like to lash armour plating and guns onto the larger Squiggoths, which can rival tanks and buildings in size.
Orkeosaurus - Orkeosaurus is a much bigger variant of the Squiggoth, it only appears in games of Epic 40,000.
Bomb Squigs are used by Ork Tankbustas. A Bomb Squig is an ordinary Squig covered in dynamite, Stikkbombz and other explosives. A Bomb Squig will charge towards an enemy vehicle and explode in a ball of fire and debris.
Eating Squig - A limbless blob used as the primary Ork food source.
Juicy Squig - A very rare and delicious type of Eating Squig that may perhaps be the only known Ork delicacy.
Gas Squig - The Gas Squig produces a toxic gas that Orks with gas masks throw as a chemical weapon.
Horned Squig - The Horned Squig that Orks jam into barricades.
Burna' Squig - The Burna' Squig can burst into flames after being thrown.
Sources
Codex: Orks (4th Edition)
White Dwarf 145 (September 1987)
Waaargh: Orks (1990)