Steel Brethren
Talk

0
2,852pages on
this wiki
Steel Legion

Warcry

"Iron Within, Iron Without!"

Founding

First Founding (30th Millennium)

Successors of
Successor Chapters

None

Number

IV

Primarch
Chapter Master

Unknown

Homeworld

Medrengard; the Steel Brethren operate from the Chaos Cruiser Ferrum Invictus

Allegiance
Colours

Steel, Black and Red
The Steel Brethren, also known as the Steel Brotherhood, are a warband of Chaos Space Marines drawn from the Iron Warriors Traitor Legion. They have been noted to make extensive use of gunship transports and Drop Pods in their planetary assaults. The Steel Brethren, like all warbands of the Iron Warriors, possess extraordinary skill and experience in siege warfare. The Steel Brethren, when away from the Iron Warriors' Daemon World of Medrengard, operate from the Chaos Cruiser identified as the Ferrum Invictus.
Warband History
Edit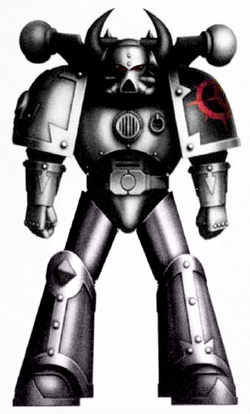 Notable Campaigns
Edit
Warband Appearance
Edit
Warband Colours
Edit
The Steel Brethren wear primarily metallic, steel-coloured Power Armour, with black on the inset of the shoulder plates, essentially a minor variation of the standard colour scheme employed by the Iron Warriors.
Warband Badge
Edit
The Steel Brethren's warband badge is two red Iron Halos that are interlinked on a black background.
Codex: Chaos Space Marines (4th Edition), p. 24
Imperial Armour Volume Six - The Siege of Vraks - Part Two
Imperial Armour Volume Seven - The Siege of Vraks - Part Three, pp. 137, 172