Talk:Raven Guard
3,203pages on
this wiki
There are currently two seperate answers listed on this page in regards to Trim Color for the Raven Guard. Under the heading 'Company Colors' it states one thing, and under the heading 'Organisation' it states another. Please change this to the following as it is currently very confusing (I would do it but the page is locked). My sources are listed at the bottom.
The 'Organisation' heading should have the following text:
The Raven Guard follow the dictates of the Codex Astartes, though there are some differences in the tactical application of their troops. The Raven Guard depend on Scout forces, which are trained to act alone for extended periods of time, and rapid reaction forces such as jump-pack assault troops. They commonly deploy their Tactical Squads and Dreadnaughts in Drop Pods and/or Thunderhawks.
The 'Company Colors' heading should have the following text:

According to Index Astartes IV the trim should be the following:

Left Shoulder: Black

Right Shoulder: Depends on Squad Type (see below)

Tactical - Green

Assault - Red

Devastator - Yellow

Veteran - Black

Some Commanders / high ranking Veterans have all White shoulders (as well as helmets and sometimes arms).

Note: The current Codex: Space Marines (5th edition) depicts Raven Guard trim painted with company colors (namely red, for third company). This is believed to be wrong by much of the fan base as it goes against established fluff / lore.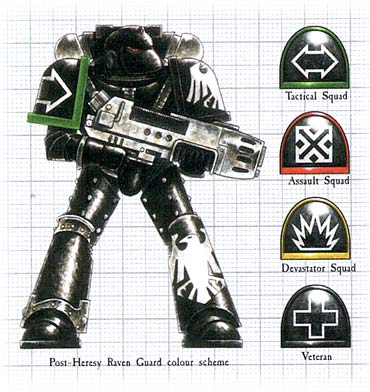 ~source: Codex: Space Marines (5th Edition)
~source: Index Astartes IV
~source: Games Workshop Raven Guard Background
122.105.104.13 16:10, June 10, 2010 (UTC)Onyx Icarus of http://sonsofcorax.freeforums.org

The name for the 10th company captain is Korvydae who is also known as Master of Recruits. I got the information from Raven Guard - Lexicanum Primarch11 02:54, December 20, 2010 (UTC)