Ad blocker interference detected!
Wikia is a free-to-use site that makes money from advertising. We have a modified experience for viewers using ad blockers

Wikia is not accessible if you've made further modifications. Remove the custom ad blocker rule(s) and the page will load as expected.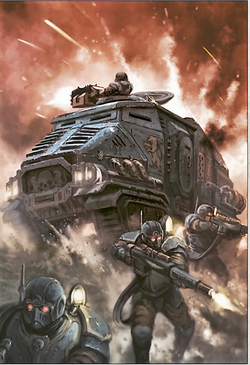 The Taurox Prime is a variant of the standard Astra Militarum Taurox armoured personnel carrier (APC). The Taurox Prime is a specialist variant of this APC that was built for use by the elite Militarum Tempestus, using the efficient and flexible Taurox design. The vehicle's chassis incorporates arcane technologies that allow it to sustain Tempestus Scions while they operate in extremely hostile environments up to and including the cold vacuum of space. The vehicle can be internally pressurised, and features an array of life-support systems. Furthermore, Taurox Prime's engines -- using the proper rituals and prayers -- are capable of channeling magnetic force into the APC's tracks, enabling the vehicle to cling to vertical surfaces, and even operate in zero gravity conditions.
Unlike the standard Taurox, the Taurox Prime is capable of being outfitted with a wide variety of weapons systems, and is designed to be highly versatile. These vehicles are the ideal transport for the elite forces of the Militarum Tempestus, and are armed with the lightweight Taurox Battle Cannon mounted upon a turret atop the vehicle and a set of twin-linked Hot-Shot Volley Guns mounted on the sides of the vehicle's hull. The Taurox Battle Cannon can be replaced with a Taurox Gatling Cannon and the hull-mounted weapons replaced with twin-linked Autocannons. The Taurox Prime can have its turret removed and a Taurox Missile Launcher system equipped or just have its turret and weapon removed to lessen the vehicle's weight. The vehicle can also be equipped with a pintle-mounted Storm Bolter or Heavy Stubber, either on top or mounted on its turret. The Taurox Prime can also make use of bull bars on the front to protect from debris and can be equipped with many other Imperial upgrades and attachments such as a searchlight, relic plating, a dozerblade, a recovery gear, smoke launchers, extra armour plating, fire barrels, a Hunter-Killer Missile Launcher, camouflage netting, and an Augur array.
Notable Taurox Primes
Edit
The regiments of the Militarum Tempestus depend upon their Taurox Primes to deliver the mighty fury of the Imperium across all types of dangerous terrain and impossible conditions. Given the Taurox Prime's long-standing service with the Tempestus Scions, many of these vehicles have become notable for their supporting role during legendary Imperial victories. The following represent several of the most notable Taurox Primes:
Adeptus Mechanicus Technical Specifications
Edit
Taurox Prime Armoured Personnel Carrier
Vehicle Name:
Taurox Prime
Main Armament:
Turret-mounted Taurox Battle Cannon
Forge World of Origin:
Unknown
Secondary Armament:
Hull-mounted twin-linked Hot-Shot Volley Guns
Known Patterns:
Unknown
Traverse:
360 and 6 degrees (Turret)
Crew:
Unknown
Elevation:
-2 to 28 degrees (Turret)
Powerplant:
Unknown
Main Ammunition:
Unknown
Weight:
Unknown
Secondary Ammunition:
Unknown
Length:
Unknown
Armour:
Width:
Unknown
Height:
Unknown
Superstructure:
Unknown
Ground Clearance:
Unknown
Hull:
Unknown
Max Speed On-Road:
Unknown
Gun Mantlet:
Unknown
Max Speed Off-Road:
Unknown
Vehicle Designation:
Unknown
Transport Capacity:
10 Infantry
Firing Ports:
Two on each side
Access Points:
Two side access points, one rear access point
Turret:
N/A or Unknown
Codex: Astra Militarum (6th Edition) (Digital Edition), 

pp. 108-110

Codex: Militarum Tempestus (6th Edition) (Digital Edition), 

pp. 14, 32, 33, 55, 66