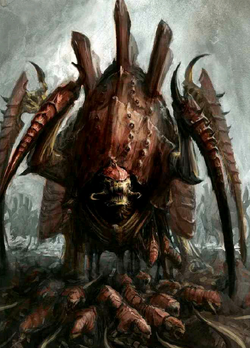 The Tervigon is a massive creature, with a towering spined carapace that shields a swollen abdomen. This massive Tyranid organism serves as a living incubator capable of spawning Termagants. Each Tervigon is a living incubator beneath whose lumpen carapace dozens upon dozens of Termagants slumber in a state of hibernation. The Tervigon spawns its dormant broods at will, so that a foe engaging it will soon find itself assailed by waves of skittering Termagants. The only way to end this menace is to concentrate all firepower on the Tervigon and slay it. The resulting symbiotic backlash through the Hive Mind inevitably kills its spawn. Despite its massive size, the Tervigon can be deadly in close-combat, shifting its weight onto its rear legs and scything its claws back and forth in crushing arcs. The Tervigon should also not be underestimated at range -- its carapace conceals banks of cluster spines that can be fired at a considerable distance. Whilst traveling through space, Tervigons do not slumber in a dormant state. Instead, they roam the Hive Ship's cavernous innards. Should they detect intruders, it can spawn an army of frenzied Termagants to repulse the foe whilst using its potent synaptic link to awaken additional warriors.
Sources
Codex: Tyranids (5th Edition), pg. 52
Deathwatch: The Jericho Reach (RPG), pg. 190
Ad blocker interference detected!
Wikia is a free-to-use site that makes money from advertising. We have a modified experience for viewers using ad blockers

Wikia is not accessible if you've made further modifications. Remove the custom ad blocker rule(s) and the page will load as expected.