Thunderfire Cannon
Talk

2
2,851pages on
this wiki
"I have travelled far and seen much. Yet nothing warms my heart so much as the sight of a gun so massive that its fury makes the very world tremble." -- Captain Darnath Lysander, 1st Company, Imperial Fists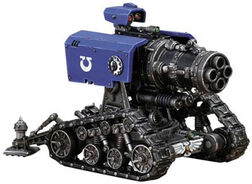 The Thunderfire Cannon is a massive, multibarrelled, rotary Assault Cannon that provides heavy direct fire support for Space Marine Chapters in combat and can also be mounted on an aircraft or vehicle. Space Marine task forces are intended to carry out swift, lightning-quick assaults, and a unit in an Astartes force that cannot maintain a rapid advance swiftly becomes a major liability. For this reason, most Space Marine fire support artillery units are mounted on armoured vehicle chassis that can keep pace with the rest of the army, as can be seen in the cases of the Vindicator and the Whirlwind. Designed for the static defence of a fortified Space Marine position, the Thunderfire Cannon is the one exception to the Space Marines' emphasis on mobility. Mounted on slow-moving but rugged tracks, each Thunderfire Cannon is a quad-barrelled minigun capable of maintaining a withering hail of fire. The Techmarine manning a Thunderfire Cannon can set its shells to detonate in a variety of different ways, depending on the tactical situation. Surface detonations are employed against numerous enemies in comparatively clear terrain, whilst airburst shells are used to scour a foe from cover. The most devastating barrage, however, is one programmed to burrow deep into the ground before detonating. Though the force of the blast is greatly reduced, the resulting shockwave is often sufficient to knock enemies sprawling, making them easy prey for other Astartes' weaponry. Thunderfire Cannons are primarily employed in mountainous or broken planetary terrain, where the more traditional Space Marine mobile artillery units, such as Whirlwinds, cannot operate. Though a Thunderfire Cannon is capable of moving on its own, they are normally deployed from Thunderhawk gunships or other fast-moving transport craft from a Space Marine force's orbiting Strike Cruiser or Battle Barge. Thunderfire Cannons are also invaluable in defensive deployments and evacuation missions, where their high rate of anti-personnel fire and disruptive subterranean shockwaves can wreak glorious havoc amongst attackers.
Adeptus Mechanicus Technical Specifications
Edit
The full technical specifications of the Thunderfire Cannon have not yet been made public by the Adeptus Mechanicus.
Codex: Space Marines (5th Edition), p. 73