Warhammer 40K Commandments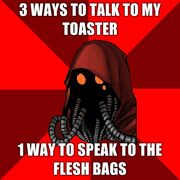 1. Thou shalt not refer to the Adepta Soritas as "Bolter Bitches."
2. Orks are not "cute."
3. Thou shalt not make jokes about the Imperial Guard's weapons.
4. Thou shalt not replace the Librarian's staff with a magic wand.
5. Thou shalt not tip the Terminators over during battle.
6. Thou shalt not do Spock impersonations around Eldar.
7. C-3P0 is not a Necron ambassador.
8. Thou shalt not pay someone an Imperial to eat that Squig.
9. No, you cannot "Take the Titan for a spin."
10. Thou shalt not use thy multi-meltas to light campfires. (in a similar manner, thou shalt not use the Terminator Captain's chainfist to open tins of baked beans)
11. Thou shalt not bribe the Inquisitor to bring down Exterminatus on your ex-wife.
12. Thou shalt not refer to the Rhino transports as "pimp wagons," nor shalt thou use the phrase, "If the Rhino be rockin, don't come a knockin."
13. The Chapter Master is not a "drag."
14. Thou shall not use Power Swords to cut your food.
15. Thou shall not ask a Sister if you might, "Donate some of your own Gene-Seed."
16. Thou shall not throw soap at nurglings.
17. Thou shalt not put a "kick me" sign on the Golden Throne.
18. Thou shalt not refer to the Machine Spirit as "Cruise Control".
19. Thou shalt not stick a 'Honk if you think I'm sexy' sticker on the Sisters' Rhino.
20. Thou shalt not honk if thou sees a sticker saying 'Honk if you think I'm sexy' on a Sister's Rhino.
21. Thou shalt not unplug the Golden Throne just "for laughs".
22. Thou shalt not make the Emperor read your palms, or call upon him as "Miss Cleo".
Ad blocker interference detected!
Wikia is a free-to-use site that makes money from advertising. We have a modified experience for viewers using ad blockers

Wikia is not accessible if you've made further modifications. Remove the custom ad blocker rule(s) and the page will load as expected.