Hi guys, this is my first blog. Its brilliant that Montonius and Algrim are doing the death korps of Krieg page, But as my name suggests, Im here to talk about Salamanders and Salamander related topics:
what about the Salamanders page, its been neglected evidently for ages. there have been 2 books in the tome of fire Trilogy since it was last updated in the campaign section.
This blog has been set up for those who wish to talk more about the Salamanders Chapter, Nocturne & Prometheus, and all other Salamander related issues (no eco people complaining about the annitiation ceromony of the Chapter in question)
By the way, you guys (Montonius and Algrim) are a great inspiration for all of us.
A content Fire Drake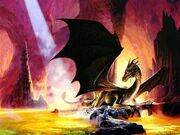 Ad blocker interference detected!
Wikia is a free-to-use site that makes money from advertising. We have a modified experience for viewers using ad blockers

Wikia is not accessible if you've made further modifications. Remove the custom ad blocker rule(s) and the page will load as expected.