War Bearers
Talk

0
2,851pages on
this wiki
War Bearers

Warcry

Unknown

Founding

Unknown

Successors of

Unknown

Successor Chapters

Unknown

Number

Unknown

Primarch

Unknown

Chapter Master

Unknown

Homeworld

Unknown

Allegiance
Colours

Olive Drab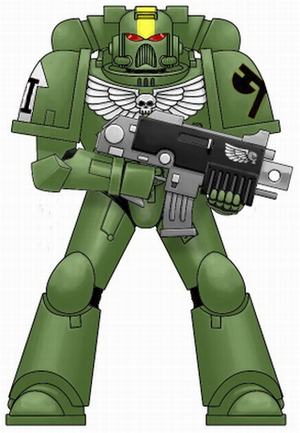 The War Bearers are a Loyalist Chapter of Codex Astartes-compliant Space Marines of unknown Founding and origin. Nothing else is known about them in Imperial records.
Chapter Appearance
Edit
Chapter Colours
Edit
The War Bearers wear olive-drab coloured Power Armour. The stripe on their helmets displays the company colour of the individual Astartes, in accordance with the Codex Astartes.
Chapter Badge
Edit
The War Bearers' Chapter badge are ebon-coloured, crossed battle-axes.
Imperial Armour Volume Two - Space Marines and Forces of the Inquisition, p. 65
Insignium Astartes, p. 56