Warp Ghosts
Talk

0
3,292pages on
this wiki
Warp Ghosts

Warcry

Unknown

Founding

Unknown

Successors of

Unknown

Successor Chapters

None Known

Number

Unknown

Primarch

Unknown

Chapter Master

Unknown

Homeworld

Unknown

Allegiance
Colours

Dark Green, White, Black, and Gold
The Warp Ghosts are a Renegade Chapter of Chaos Space Marines of unknown Founding and origin, whose survivors now serve the Chaos God Nurgle, the Plague Lord. The Chapter betrayed the Imperium of Man and turned to Chaos, allying themselves with Abaddon's 13th Black Crusade. Being only a single Renegade Chapter, the Warp Ghosts have far fewer Chaos Space Marines and equipment than the original Traitor Legions, but are still renowned for their ferocity among the Forces of Chaos. The Bleak Brotherhood is believed to be a faction or warband of the Warp Ghosts.
Chapter History
Edit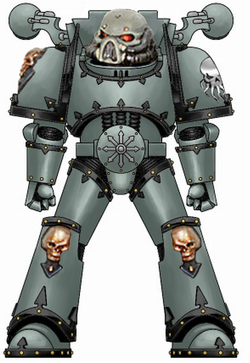 Notable Campaigns
Edit
Chapter Appearance
Edit
Based on their colour scheme, the Warp Ghosts may be another name for the Death Mongers, a similar Chaos Space Marine warband. Or, this duplication of colour scheme may simply be an oversight on the part of Games Workshop.
Chapter Colours
Edit
The Warp Ghosts' original Loyalist Chapter colours were dark green and white with black and gold details. After turning to Chaos their armour became the pale green colour of rotting flesh with black trim.
Chapter Badge
Edit
The Warp Ghosts possess no Chapter badge of their own, instead opting to adorn their Power Armour with the usual heretical symbols of devotion to Chaos such as the eight-pointed Chaos Star. However, this Chapter is often seen with an unofficial, fan-created Chapter badge that incorporates the xenos skull of an Ymgarl Genestealer.
Codex: Eye of Terror (3rd Edition)
Codex: Chaos Space Marines (4th Edition), pg. 18
Codex: Chaos Space Marines (3rd Edition, 2nd Codex), pg. 76