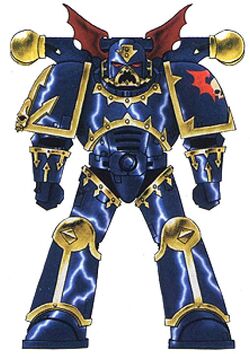 The Warriors of Aggannor are a warband of Chaos Space Marines composed of an amalgam of warriors from multiple Chaos Space Marine warbands and the Traitor Legions. Numerous Night Lords and Word Bearers Traitor Marines swore allegiance to the Chaos Lord Aggannor and were responsible for a major Chaos incursion on Calibos III during Goge Vandire's Reign of Blood in the Age of Apostasy in the 36th Millennium.
Warband Appearance
Edit
Warband Colours
Edit
Since this warband is composed of warriors from multiple Chaos warbands and Traitor Legions, they have no definitive colours that identify them. Instead, they maintain their original warband's or Traitor Legion's colours.
Warband Badge
Edit
The Warriors of Aggannor do not have their own iconography to identify them. Instead warriors from this warband wear their original warband's or Legion's identifying badge or markings.
Notable Warriors of Agganor
Edit
Agganor - Agganor is the powerful Chaos Lord who leads the Warriors of Agganor warband.
Codex: Chaos Space Marines (4th Edition), pg. 70
Ad blocker interference detected!
Wikia is a free-to-use site that makes money from advertising. We have a modified experience for viewers using ad blockers

Wikia is not accessible if you've made further modifications. Remove the custom ad blocker rule(s) and the page will load as expected.