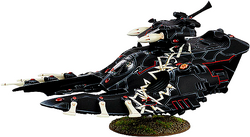 The Wave Serpent is an armored personnel carrier based on the same design as the Falcon. It is the standard transport vehicle of the Craftworld Eldar. Armed with twin-linked shuriken catapults and a set of twin-linked heavy weapons, the Wave Serpent is capable of carrying up to twelve Eldar passengers in the expanded passenger compartment. In addition, the prow of the Wave Serpent is protected by an advanced energy shield, reducing the effectiveness of enemy weapons and ordnance.
The rune of the Wave Serpent combines many aspects: the pronged attack, the crushing tide and the writhing snake. Skilfully avoiding enemy fire whilst bringing destruction of its own, the Wave Serpent delivers its cargo to battle without fear.
Codex: Eldar Craftworlds (7th Edition) (Digital Edition), pg. 82
Codex: Craftworld Eldar (3rd Edition)
Codex: Eldar (6th Edition)
Codex: Eldar (4th Edition)
Codex: Eldar (3rd Edition)
Codex: Eldar (2nd Edition)
This article is a stub. You can help the Warhammer 40k Wiki by fixing it.
Ad blocker interference detected!
Wikia is a free-to-use site that makes money from advertising. We have a modified experience for viewers using ad blockers

Wikia is not accessible if you've made further modifications. Remove the custom ad blocker rule(s) and the page will load as expected.