Wolf Guard
Talk

0
3,273pages on
this wiki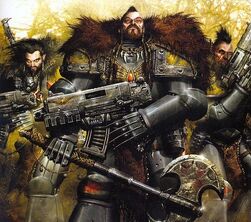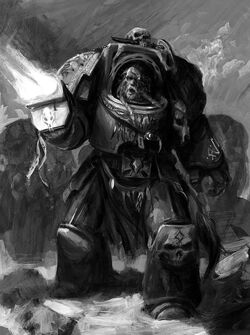 The Wolf Guard are the most elite Veterans of the Space Wolves Space Marine Chapter, comparable to a Codex Astartes-compliant Chapter's Sternguard Veterans. They are the bravest warriors of each of the Chapter's Great Companies, hand-selected by their Great Company's Wolf Lord to serve as his chosen protectors and the vanguard of his forces. Each Battle-Brother that serves in this elite unit has earned their place by some exceptional feat of arms that marked them out amongst their brethren, for a Wolf Guard is chosen based on his heroic deeds, rather than his age or time served with the Chapter. Therefore, the Wolf Guard maintains a mix of hot-blooded young warriors and stalwart veterans amongst its ranks. Each Wolf Lord favours his chosen warriors with gifts such as antique weapons, ornate Artificer Power Armour of ancient origin and patterns, and, most precious of all, rare and venerated suits of Terminator Armour. In battle, the members of the Wolf Guard are assigned to lead other units or form a bodyguard to protect their Wolf Lord.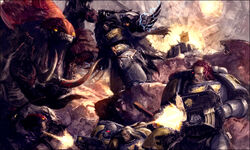 The Wolf Guard are an elite cadre of warriors that fight alongside each Wolf Lord of the Chapter's Great Companies. They are hand-picked Battle-Brothers, the bravest and strongest of the Space Wolves, chosen after proving themselves for achieving some exceptional feat of valour or heroic deed. It is not by age or maturity that one attains such a coveted rank, but by deed, and so a newly raised Blood Claw has the same chance of joining the ranks of the Wolf Guard as does a veteran Long Fang. It is the dream of every Space Wolves warrior to join the elite ranks of the Wolf Guard, and they will fight all the harder when a Wolf Lord is nearby in the hope that their valour will earn the right to join this legendary brotherhood.
Within the Space Wolves Chapter, battlefield promotion is extremely common, for Wolf Lords are men of conviction and instinct. There is no specific criteria for elevation to the ranks of the Wolf Guard. The surest way is to save the life of a Wolf Lord in the heat of battle. For it is the sacred duty of the Wolf Guard to be the sword and shield of their lord. These chosen brethren are favoured by their Wolf Lord with the best weapons he has at his disposal -- antique weapons of immense potency and ornate artefacts of ancient origin. Few can stand before these heroic warriors, equipped as they are with the best wargear in the company's Armoury, making them virtually unstoppable in close combat. Each Wolf Guard is expected to fight in the style at which he excels, for their lord cares little for their former roles in their former Packs. Few can turn down the lure and raw power afforded by a rare and powerful suit of Tactical Dreadnought Armour, and so a Wolf Lord is often accompanied into battle by a brotherhood of hulking, nigh-indestructible champions, each ready to dispense his own particular brand of death and, if necessary, give their life for their lord.
Not only does the Wolf Guard serve as bodyguards for the lords of the Great Companies, but also as mentors for the younger Space Wolves. They are excellent role models, for their battlefield experience and raw talent has earned them their esteemed position. The members of the Wolf Guard may lead less experienced Packs into battle, or form a retinue for the mightiest warrior of the Great Company — the Wolf Lord himself. As such, Wolf Guard are often assigned to lead Packs of Battle-Brothers, the better to guide them in the arts of war. The most heroic members of the Wolf Guard, typically judged by their Wolf Lord as born to the role of command, are sometimes assigned the control of an entire deployed force of the Great Company as a Wolf Guard Battle Leader. Should this leader prove himself capable of excelling above and beyond his liege's high expectations, he may find himself next in line for succession as Wolf Lord of a Great Company when his lord finally passes into legend.
Thunderwolf Cavalry
Edit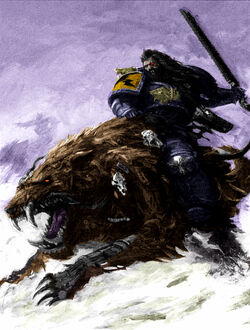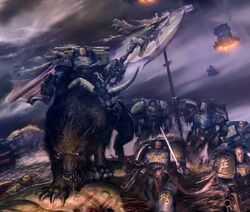 Thunderwolf Cavalry units are a sub-group of the Wolf Guard. According to official Imperial records, the Thunderwolf Cavalry does not exist and the Space Wolves keep them as a closely guarded secret. Thunderwolves are giant Fenrisian Wolves that stand about the height of a Terran rhinoceros and are used as mounts by the most elite members of the Wolf Guard. Many Fenrisians venerate the Thunderwolf as a spirit totem, for the beast is undoubtedly the apex predator in the frozen realms at the top of their world. Thunderwolves are solitary creatures that usually attack each other on sight -- it is as if every Thunderwolf strives to be the alpha male of an entire wold. These hulking beasts carve out a solitary existence that involves an eternal cycle of hunting, eating and sleeping. Their primary food source are the native creatures that live within their habitat, but they will devour any unfortunates that trespass upon their snowy realm without hesitation. Physically, Thunderwolves are monstrous, reaching as much as eight feet in height at the shoulder. They are clad in a shaggy coat of rough fur as tough as matted steel wire, and their jutting jaws are so strong that they are able to chew through steel. Rather than tracking their prey over time like their smaller cousins, Thunderwolves bear down upon their victims in a terrifying charge, snatching their prey in their massive maws and tearing the unfortunate creature's head off with a violent thrashing motion and their gnashing, grinding bite.
Only the Space Wolves have the constitution to hunt the creatures that haunt the Mountains of the Maelstrom, where perpetual ice storms can flay the skin from a lesser creature in the space of a single day. In an extreme version of the Lone Hunt, senior Space Wolves have tracked down and "broken in" Thunderwolves. This practise, thought to be an initiation ritual required for entry into the upper echelons of the Wolf Guard, has given rise to the legendary Thunderwolf Cavalry -- a small but dauntless elite within the ranks of the Wolf Guard who remain conveniently absent from any official Imperial records. The Thunderwolves used in this near-mythical unit of legend are often augmented by the Chapter's Iron Priests with Adamantium jaws, Imperial bionics, and back-jointed metal limbs that end in razor-sharp blades. The havoc that these creatures are capable of wreaking is said to be startling to even a hardened Veteran of the Adeptus Astartes. Though there exists a high-calibre vid-capture of a trio of Space Wolves cavalry riding into battle against a large mob of armoured Orks, the Space Wolves deny the practise of riding beasts to war. Yet rumours abound across the Fenris Sector about the glorious charges of the Thunderwolf Cavalry.
Wolf Guard Pack Markings
Edit
When a Space Wolf is elevated to join the Wolf Guard, he puts aside his former Pack loyalties and regalia and commits himself wholly to his Wolf Lord. As a symbol of his status, a new Pack marking is engraved upon the right shoulder plate of his Power Armour. Although this marking is unique to each Great Company, it is always rendered in stark yellow and black, the traditional colours of a Fenrisian noble. Wolf Guards wearing Terminator Armour bear the Great Company icon on their right shoulder plate. Their Pack mark is displayed instead on their knee guards and weapon casings.
Notable Wolf Guard
Edit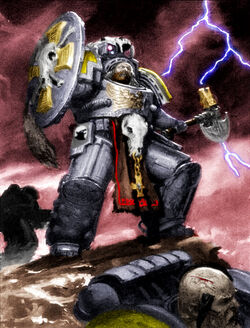 Codex: Space Wolves (5th Edition), pp. 30, 34, 72-74, 85-86, 90
Codex: Space Wolves (3rd Edition), p. 8
Codex: Space Wolves (2nd Edition), pp. 13, 36, 46
Deathwatch: Core Rulebook (RPG), p. 48
Warhammer 40,000: Index Astartes - Tactical Dreadnought Armour (Digital Edition)