Prince Yriel
Talk

0
2,852pages on
this wiki
Redirected from Yriel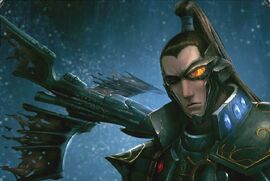 Prince Yriel, Autarch of Iyanden, was a brilliant if reckless commander in Iyanden's fleet. He is not of pure Iyanden blood but is honored as one of the greatest defenders of Iyanden. He was originally exiled when he led a successful and pre-emptive attack on a Chaos fleet that left the Craftworld open to attack. He and his crew formed a corsair fleet, the Eldritch Raiders, and had become infamous throughout the galaxy in only a few decades, a testament to Yriel's skill.
He and his fleet saved Iyanden at its time of greatest need, at the height of the Tyranid invasion by the Hive Fleet Kraken. As the Craftworld was about to fall, Yriel and his Eldritch Raiders blew a sizeable hole in the Tyranid's fleet and reinforced Iyanden's forces. Yriel himself slew the leader of the hordes, a supposedly invincible creature, with the Spear of Twilight, a cursed artifact that contains the power of a Supernova. Yriel was then instated as an Autarch of Iyanden, and is currently searching for a way to rid himself of the Spear, which is slowly killing him.
Yriel first appeared in early first edition as the "self-styled 'Lord Prince Yriel,'" where it is mentioned that Imperium-fostered rivalries between Yriel and other pirate companies resulted in factional fighting; his conquest and absorption of two of these rival groups (Xian's Black Raiders and the Scarlet Command) making him the single most powerful Eldar pirate operating in the galaxy.
Eye of Wrath - A monocular device worn over Yriel's left eye that can unleash a tempest of lightning upon those under his gaze.
Forceshield
Plasma Grenades
Spear of Twilight - Eternally bound to this Cursed Blade of the House of Ulthanesh, this weapon is said to contain the baleful energies of a dying sun. Yriel constantly battles with the energies of the Spear of Twilight from consuming him, his forceshield allaying the worst of the weapon's effects.
Battlefleet Gothic Resources, "Doom of the Eldar", pp. 6-8
Battlefleet Gothic Resources, "Yriel's Raiders" by Matt Keefe
Codex: Eldar (4th Edition), pp. 52-53
Codex: Tyranids (5th Edition), pp. 24-25
Planetstrike (5th Edition), p. 56
Warhammer 40,000 Chapter Approved - The Book of the Astronomican, p.43